Bone Regeneration

Sun City West, AZ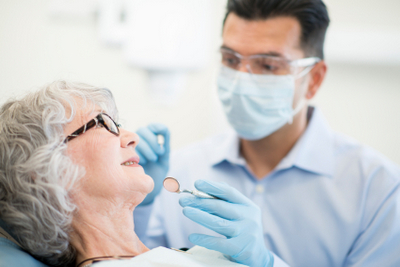 Dr Kammeyer is an expert in bone regeneration. He holds a master's degree from Loma Linda University studying bone consolidation, after bone regeneration procedures using CAT scans. Bone regeneration is often needed after replacing lost bone from a gum and bone infection called Periodontitis.

Periodontitis is a very serious disease that affects your gum tissue. It is caused by bad bacteria that enter your buccal cavity with the help of the food that you eat, and if not cleaned off immediately, slowly deteriorate the gum tissue. This infection causes your teeth to loosen and may eventually even lead to losing the affected teeth completely. If allowed to spread, the infection may spread to the bones supporting your teeth, as well.

Periodontitis is an inflammatory problem that the bacteria from the gum/bone disease cause. The bacteria go into the bloodstream, contributing to heart attack, stroke, Alzheimer's, diabetes, kidney disease, pancreatic cancer, low birth weight babies and premature birth. The inflammation that results from these bacteria contributes to ALL inflammatory conditions/problems.

Periodontitis is a common disease yet is easily preventable and is often caused by lack of good oral hygiene practices. By brushing and flossing twice daily and getting regular checkups with our dental team, you can ensure that you never develop this disease in the first place. If you neglect to take care of your oral health and need treatment for your gum disease, please schedule your checkup today by contacting our professionals at Solutions Dental Implants. We can help you with your regeneration procedures.


Procedures


The most effective method of minimizing the damage that periodontitis does to your teeth is by inducing active regeneration methods that will allow the affected areas to regrow naturally. Our expert implant surgeon will recommend a procedure that can regenerate the bone that supports your teeth and has been ruined due to gum disease. This treatment is even known to reduce some of the damage to your bone and soft tissue.

Certain proteins, and a procedure called a bone graft, can help to tell your body to naturally fight the infection. By reducing the bacteria in your mouth and around your gums and regenerating the bone and soft tissues, you will help to reduce the size of the pocket and repair the damage that happens when you have serious periodontal disease.

If grafting is one of the regeneration procedures our surgical team recommends, then the material used may be harvested from the patient's own bone or from another individual. Both of these materials can result in the regeneration of the bone and its supporting tissues and structure. Other types of grafting material may include synthetic bone substitute grafts taken from donors of another species.

If you practice the essential habits required for maintaining excellent oral hygiene, and also receive regular checkups and seek guidance from our team you will be able to keep your natural teeth and avoid tooth extractions. Additionally, you will lessen the chances of other problems to your health that are associated with gum disease.


Outcomes


Periodontitis is easily treatable, especially if discovered in the early stages, and you will not even have to worry about losing any of your teeth, as long as you seek medical treatment as soon as you begin spotting symptoms. The non-surgical treatment is greatly reliant on the regeneration of decayed tissue, and the removal of plaque bacteria and tartar from your teeth in a timely basis. We can help design the most effective antibacterial care and treatment for the patient. Since the treatment procedure followed is non-surgical, outcomes greatly depend on the lengths of plaque and tartar control, as well as the understanding of the actions to be taken during the various stages of healing.

It is important that when you have signs of gum disease that you see and contact our dental team as soon as possible. Regeneration treatment methods are only available if your condition has not reached a certain stage. The symptoms of gum disease are often silent, meaning there is no, or very little, pain associated with the condition until it is in a serious stage. This is why if you or someone you know is suffering from gum disease, then please contact Solutions Dental Implants by calling (623) 556-5442 today. We also offer tooth replacement options like

dental implants

and All on 4 Treatment.