Pre-operative Instructions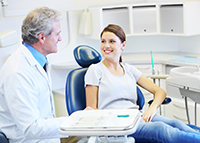 Dr. Kammeyer and your dentist have recommended implant treatment as the best option for you. This is an outpatient procedure that will be performed in our office with a local anesthesia and a sedative taken by mouth, nitrous oxide "laughing gas" sedation, intravenous conscious sedation or general anesthesia.

The following is a list of pre-operative instructions that will help keep you as comfortable as possible before, during and after the procedure.



Do not eat or drink anything the 6 hours prior to your surgery if you plan to have sedation except 2–3 tablespoons of water to wash down the medication. It is best taken 6 hours before your appointment so you can take it with more water.
You will be given or have received prescriptions for an antibiotic, pain medication/anti-inflammatory and oral mouth rinse. You will need to fill these in advance. You will start all three medications 24 hours prior to your surgery. Taking these before your appointment will help ensure a smooth transition and help keep you comfortable during your appointment.
You will need someone to drive you to the appointment and take you home after the appointment. They are welcome to stay and wait, or we will be happy to call them when you are finished and ready to go home.
Stock up on post-surgical foods before your visit. Soft, cool items such as V-8, fruit juice, yogurt, pudding, ice cream and cottage cheese, Ensure, Boost, blended smoothie ingredients or any liquid supplements are ideal. We also recommend stocking up on humorous, light-hearted videos you can watch while taking it easy. "Laughter" is the BEST medicine.


If you have ANY questions regarding the surgery, medications, or aftercare, please do not hesitate to call our office at 602-635-2558. You can call Dr. Kammeyer at home at 623-551-1916 or on his cell phone at 623-256-8686 as well. We are dedicated to your comfort and following these guidelines have been proven very successful.